—————————————————————————————————————————–
WHAT IS THE MEANING of beauty in our lives and work, and does it have any relevance in the contemporary world?  Writer Aleksandr Solzhenitsyn believed that beauty can change the world.  Does that concept still hold currency?  These questions are at the heart of "Conversations on Beauty:  Does Art Matter?" a set of discussions among small groups of artists, designers, scientists, theologians and social scientists who examine the concept from different perspectives.
—————————————————————————————————————————–
PAST PROGRAM EVENTS are archived below. To be notified about upcoming events, please subscribe to our email newsletter. 
 "SAN DIEGO…WHERE THE ARTS BELONG"
Tuesday November 12th, 2013, Mingei Interntional Museum
5:30 – 7:00pm
How can we invite in the arts so that they may be integral to our community?  How does Ilan-Lael Foundation fit into this future?
Panelists:  James Hubbell, Hugh Davies, Museum of Contemporary Art San Diego, Daniel Foster, Oceanside Museum of Art, Patricia Frischer, San Diego Visual Arts Network, April Game, ArtPulse,  Peter Jensen, Moderator
Tickets $15 at the door
—————————————————————————————————————————–
"IN PRAISE OF ECCENTRICS"
 Tuesday November 13th, 2012, Mingei International Museum
"Why should we praise the eccentrics, the persons or events that do not fit comfortably into our well-conceived patterns and roles we have dressed our world in? Without people that have their own vision, a vision that does not march to a mass drum, human, social, cultural and spiritual evolutions will not work. 
Civilization is like a great ocean liner set on its course.  Eccentrics are like people in small rowboats paddling in all directions.  Sometimes one of the boats might notice the ocean liner is headed for a precipice and give warning and the ship time to turn. 
We have been given an amazing planet full of infinite treasures in nature, people and ideas. If we are not threatened by diversity but seek to explore it, to celebrate it, we would enter a world full of answers. The arts are one way to introduce people to new ways of thinking, confronting ideas we find threatening and moving into unfamiliar places. 
Diversity is nature at play.  A healthy environment is a diverse one."  
PANELISTS:  James Hubbell – artist  •   David Malmuth – developer, co-founder I.D.E.A. District, San Diego  •    Zandra Rhodes – artist/designer  •   Milenko Matanovich – creative community builder, artist
Sponsored by Szekely Family Foundation                  See Event Flyer here.
—————————————————————————————————————————–
"MYTHS – THE STORIES WE TELL OURSELVES"
How The Arts Convey Our Changing Story
Tuesday March 20th, 2012, Mingei International Museum
People nowadays think only primitive people believe in myths, but myths dominate the thinking of every society, including our own.  Myths are the stories we tell ourselves to make sense of the world.  Human beings think with stories as inevitably as they see with eyes and walk with feet, and if you pay careful attention to the stories a culture tells, you can grasp things about the culture that nothing else will teach you.
How does our culture communicate contemporary myths?  In Myths – The Stories We Tell Ourselves, we will examine the power of myth and what role the arts play in the unfolding of a world view.  Is beauty now an essential part of that evolution?  Can we imagine a myth that gives the possibility of a world that is balanced, human, functional, and beautiful?
PANELISTS:  James Hubbell – Artist  •    Phil Cousineau – Author, "Who Stole the Arms of Venus de Milo?"   •   Richard Lederer – Author, Columnist, Verbivore  •   Jo Lauria – Independent Curator and Art & Design Historian  •   Dirk Sutro – Moderator
See event flyer here
  —————————————————————————————————————————–
"CREATING THE WHOLE STUDENT"
Uniting Matter and Spirit: The Role of Art in Education"
November 15, 2011,  Mingei International Museum, San Diego, Ca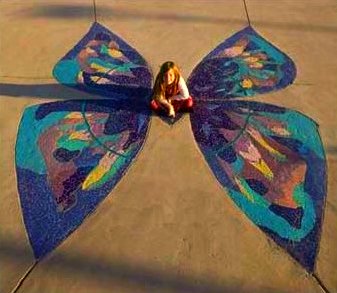 The emphasis on science and math-based achievement along with the fiscal uncertainties being experienced by educational institutions have resulted in arts and humanities studies being reduced or eliminated in many cases. At the same time, businesses and industries are demanding creative thinkers to work in an increasing complex and fast-paced world.
'Our contemporary reliance on technology and knowledge of the physical world, the things we can measure, are training only half the person.' says artist James Hubbell. 'This has a profound affect on students' view of themselves and where we are as a country. Art is not about knowledge; it is about a very real part of being human that we will never completely understand; the intuitive. It can open windows to possibilities that our knowledge told us were closed. Knowledge can tell you where you are but it cannot tell you where you wish to go.'
New to this conversation is a performance component. Orchestra Nova's widely acclaimed Every Child, Every Life program will supply a young pianist to perform. In addition, Colegio La Esperanza, a school which James Hubbell has built for the past 20 years along with panelist Christine Brady, will be bringing a young violinist from its Tijuana school performing arts program."
PANELISTS:   Dr. John Eger, Lionel Van Deerling Endowed Chair, Professor of Communications, SDSU   •   Maestro Jung-Ho Pak, Orchestra Nova   •    Christine Brady – Founder, Colegio La Esperanza  •   James Hubbell – Artist, Environmentalist, Humanitarian
—————————————————————————————————————————–
"Does Art Matter"
PANELISTS:   Kathi Diamant – author "Kafka's Last Love", performer, Kafka Scholar, SDSU   •   Klaus Floride – musician & original band member "Dead Kennedys"   •   Arline Fisch  -  Artist and Educator   •   James Hubbell  -  Artist and Humanitarian   •   John Malashock – Founder, Malashock Dance   •   Dr. Aniruhhd Patel, Senior Fellow, Neurosciences Institute   •   Dirk Sutro,  Moderator
"Does Art Matter?"
Does art really matter?  I know for myself it is essential, for art and nature guided me out of the uncertainty of youth.  I am sure it matters for creative people.  But I wonder when at a baseball game with thousands of cheering fans, does it really matter? Would we have lost anything is art just went away? My question to the panelists:  can you put into words your passion for art and can you see in art where it tips the balance in how others see and confront life? If art is that process in humans where we come to inner terms with change, with what we do not yet comprehend; if it is the place where we give to the new patterns and rhythms that lift us past those that no longer work; then it is important, and we the public and the artist do ourselves a disservice when we do not take it seriously.
By James Hubbell
"Beauty and the Built Environment"
October 12, 2010, Mingei International Museum
Our Panelists:
Teddy Cruz; architect and professor, Visual Arts Department, UCSD
Richard Louv; journalist and author "Last Child In The Woods"
Andrew Spurlock; Landscape Architect
Julia Marciari-Alexander;  Deputy Director of Curatorial Affairs, San Diego Museum of Art
James Hubbell; Artist and Humanitarian
Moderator: Dirk Sutro

View Past Videos:
The Purposeful Place, Richard Louv  http://www.youtube.com/watch?v=0RvVp_YLdRI
The Power of Words, Richard Louv  http://www.youtube.com/watch?v=2n-q2rs7bTM
Relational Aesthetics, Teddy Cruz, Julia Marciari-Alexander  http://www.youtube.com/watch?v=pfVaV6ZNQ-M
Pessimistic Optimism, James Hubbell, Teddy Cruz  http://www.youtube.com/watch?v=QZ-7T9LGzTw
Museums As Arbiters of Beauty, Julia Marciari-Alexander  http://www.youtube.com/watch?v=JjJTqsdG7HE
Beauty's Spectrum, James Hubbell, Martin Spurlock  http://www.youtube.com/watch?v=mOYDEr6GMNw
Beauty Beyond the Facade, Teddy Cruz  http://www.youtube.com/watch?v=zqdL01C_sT0


Beauty and International, Intercultural, and Interpersonal Relations
June 22, 2010
San Diego Museum of Art

Panelists:
Stephan Haggard, Director, Korea-Pacific Program, UCSD
Dee Aker, Deputy Director, Kroc Institute for Peace and Justice, USD
Sonja Quintanillas, Curator, Asian Art, San Diego Museum of Art
Robert Pincus; Art Critic and Book Editor, San Diego Union Tribune
Arthur Ollman, Director of School of Art, Design and Art History, SDSU
James Hubbell,  Artist and Humanitarian
Moderator:  Rebecca Morales     Background Paper:  Jacque Lynn Foltyn
No Videos Available
Beauty and Theology
February 2, 2010
Private Residence

Panelists:
Susie Babka, PhD
Natasha Bonilla Martinez
Rev. Alyce Smith Cooper
Rabbi Laurie Coskey
Richard Farson
Rev. Sam Greening
Dennis Howard
James Hubbell
Azim Khamisa
Rev. Carolyn Owen-Towle
Moderator:  Rebecca Morales, PhD       Background Paper:  Susanne Sklar, PhD
View Videos:
Beauty and The Sabbath Ritual, Rabbi Laurie Coskey http://www.youtube.com/watch?v=yWC2eG11YgA
Beauty is Not Pretty, panel discussion  http://www.youtube.com/watch?v=V1nm6VSUixE
Catholicism and Beauty, Susie Babka PhD.  http://www.youtube.com/watch?v=cuiyLCUl9JU
The 20th Century Struggle With Beauty, James Hubbell and Natasha Bonilla Martinez  http://www.youtube.com/watch?v=ZwCpxzkDOh8
The Holy Kiss, Alyce Smith Cooper, Azim Khamisa, Rabbi Laurie Coskey  http://www.youtube.com/watch?v=wBCK8igLVF8
The Interconnectedness of Beauty, Dennis Howard  http://www.youtube.com/watch?v=bDG_FPSD6oY
The Meaning of Beauty, James Hubbell  http://www.youtube.com/watch?v=B5B_pT9Pgs0
When You See With Real Eyes You Realize, Azim Khamisa  http://www.youtube.com/watch?v=SJGMLmGUZvM